•Humanely Raised Meats •Sustainable Sourcing •Traceable Ingredients
Open Farm is a family-run business where we know that the best ingredients are grown and raised by farmers who respect the land they call home and the animals under their care. Their grain-free recipes focus on a limited set of premium proteins, fruits, and veggies that are raised naturally, responsibly and humanely. By working exclusively with farmers who share the same commitment to exceptional quality and sustainable farming practices.Open Farm makes better food for your pet while doing some good for family farms, farm animals and the environment. Open Farm starts with premium nutrition and clean ingredients to produce the highest standard of farm-to-bowl pet food.
•Naturally Formulated • Naturally Safer • Naturally Better
Fromm Family Foods is a fifth-generation family-owned and operated artisan pet food company based in Wisconsin. In 1949, the Fromm Family had introduced the concept of premium pet food to the world by pioneering the process of cooking meat and grain together to create the dry kibble food that is so popular today. The company owns and operates two dry food and treat manufacturing facilities in Wisconsin (in Mequon and Colombus) as well as a wet food cannery in Eden, Wisconsin. Fromm is an affordable quality dog food. It is comparable in price to some 'grocery store brands' yet is much higher quality. The ingredients are easy to read yet provide proper nutrition. The company takes quality and safety very seriously.
Horizon Pet Foods are an innovative grain free pet foods that apply the same nutritional philosophies of a raw diet but in a convenient super-premium kibble. This ancestral diet, grounded in an historical understanding of your pet's nutritional needs, contains an abundance of fresh, human grade meats combined with fruits, vegetables, unique botanicals and supplements all designed for immune health.

We Proudly Serve Horizon Pulsar Chicken As Our Standard Kennel Diet

Happy Birthday to Me!
We carry Bosco & Roxy's famous dog biscuits. made from 100% awesome....from Canada. These dog treats look and taste good enough to eat (I had only one). We even have their Happy Birthday Bone shaped cookies....Party!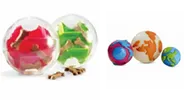 Planet Dog ; Made in America
We have tried to pick vendors that reflect the same spirit as we do, therefore we carry the eco-friendly toys from Planet Dog, and the super tough toys of Tuff-Enuff. Our leashes and collars are made in America by two companies Up-Country, and Spindrift.
While some of our foods and treats are Made in Canada (for ingredient reasons) their companies embrace the same Can-Do attitude towards quality that we do.
EZyDog Harnesses
EzyDog harness are super cool and built strong. Your dog will look ultra cool and be ultra safe in its EzyDog harness and seatbelt restraint system, or while walking with its Zero Shock leash.
Every dog should be an EzyDog!
And More, like West Paw Design, Freedom No Pull Harness, Kurgo Designs, Ifetch, Himalayan Dog Chews