About AnimalCrackers Chiropractic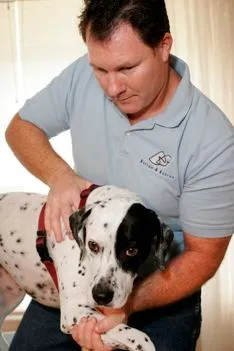 AnimalCrackers Chiropractic was started in 2004 after Casey Brechtel DVM became involved in Animal Chiropractic. This interest began as an amazing journey of awareness. Before the turn of the millennium, Dr. Brechtel was himself referred to chiropractic for back care. During this healthcare episode he became friends with, and later married, a human chiropractor by the name of Mary Brechtel DC. This angel of mercy changed his life in many ways. His spouse not only enlightened him about chiropractic, but has also served as a role model for the success that chiropractic can have for patients. As a scientist, Dr. Brechtel was at first reluctant to accept the wide variety of conditions treatable by chiropractic, but after watching his wife's practice provide hundreds upon hundreds of individuals with hope for conditions that western medicine had failed, he began to come around (men are always slow this way). In 2004, spurred on by his wife, Dr. Brechtel attended Parker Chiropractic College's AVCA certified Animal Chiropractic course. Since that time he has favored natural medicine above western based veterinary medicine because of its safety and effectiveness. In addition to chiropractic techniques, Dr. Brechtel incorporates, nutrition, regional acupuncture, homeopathy, and herbology into his practice. The practice includes many small animals, horses, one show goat, and a special dolphin named Astro. Many pet-patient's owners are HealthMatters Chiropractic patients as well, making chiropractic care, a truly family affair.
Common Conditions Treated
Common chiropractic conditions in animals include back pain, neck pain, joint pain and stiffness, and similar restrictions in movement. Your animal chiropractic provider is also knowledgeable about many neurological conditions and performs neurological examinations on every patient.
But animals often mask symptoms in behavioral changes. Often we are asked to consult on behavioral problems or issues that have arisen suddenly. Most often these conditions turn out to be secondary effects to some other issue, such as pain, anxiety, allergies, and organ dysfunction. For example, just imagine what an animal with a pinched nerve in the neck feels in his paws. You and I might explain it as numbness and tingling, but to a dog that feeling might be an itch. The dogs continual chewing of his foot might be a symptom of nerve pain, not an allergy!
Other conditions aided by chiropractic include allergies, anxiety, hormonal problems, incontinence, fatigue, head tilt, hearing difficulty, recurrent ear infections, and more. Since the nervous system controls all of your animals organ systems, a subluxation (or complex of) can have incredible broad reaching effects.
Click For More information about natural veterinary care.